How You Can Tell You Need New Tires
Age, use, and road surfaces all contribute to the life of your tire. Different models and brands vary considerably, if you're unsure, have your tires inspected at AutoNation Nissan Tempe. But it's generally advised to replace any tire before they are five years old.
Even being over or under-inflated can have a pronounced impact on your vehicle's handling and fuel efficiency, and a proper alignment is also crucial to making sure you get every mile out of your new tires. Your service advisor will be able to identify any problems with your tires, but the infographic below shows some of the most common issues, and what they mean for the health of your vehicle.
What Are Your Tires Telling You?
Look for some of these signs that indicate replacement is needed: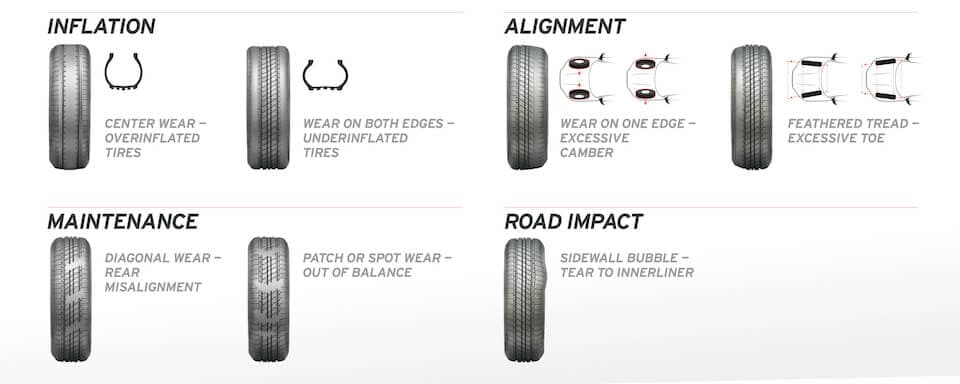 Check Your Tires Regularly
Many drivers who'd never consider skipping a basic service like an oil change often overlook their tires. But tires play a crucial role in your car's performance and safety.
Systems like traction control and anti-lock brakes rely on your tires, as they're the only part of your car that touches the road! And since your local AutoNation Nissan Tempe dealer is committed to keeping your car safe, reliable, and performing at it's best, our highly trained technicians always stress the importance of properly maintaining your tires.
Because if the weather turns rotten, you hit some rocky road, or you're just out carving corners on a Sunday drive, you'll appreciate the peace of mind a fresh set of rubber inspires. After all, when you're replacing your tires, you're ensuring your vehicle's ride, handling traction, and safety.
Shopping For New Tires AutoNation Nissan Tempe
At your local AutoNation Nissan Tempe dealer, you'll find the industry's best selection of tires for every type of vehicle. Everything we stock is competitively priced, and ready to be professionally installed. Your service advisor will provide options for your vehicle and budget to fit your needs. Here's what you can expect from your local AutoNation Nissan Tempe Tire Store.
A complete lineup of 18 major tire brands
Over 15,000 different tire options
Same day and next day availability on many popular sizes and brands
Original Equipment and high-quality alternatives
Manufacturer rebates available
When shopping for new tires, there are a few important factors to consider. Where you live and how you drive are important. Your service advisor will be able to help you choose from versatile all-seasons, slush-ready winter tires, sporty performance models, or rugged off-roaders. But regardless of what you select, It's important to always purchase tires as a complete set, as modern cars are sensitive to the differences between each wheel. Don't forget to check the age and condition of your spare, as you'll want it to be ready if you need it.
Tire Repair Shop Near Me Tempe, AZ
No longer does replacing or repairing your tires need to be a chore. At AutoNation Nissan Tempe, we are dedicated to making the process as easy and streamlined as possible. AutoNation Nissan Tempe service advisors will work with you to determine what tires work best for your situation. With 18 major tire brands available and over 15,000 different tire options, you'll have no problem getting what you need. With many popular options available for same and next day installation, you'll never need to worry about tire repair interfering with your busy schedule.
Once we have picked out the perfect set of tires, our team will replace them in an efficient and timely manner. You may enjoy our quiet and comfortable lounge. When replacing your tires, our expert service technicians use only factory tools and Nissan parts designed to work exclusively with your vehicle.
We understand the importance of tires when it comes to keeping you safe on the road. No detail is too small for our team when replacing your tires. For Nissan tire repair in Tempe, schedule service at AutoNation Nissan Tempe today!